Workflow Automation
What is Workflow Automation?
Let's start with defining a "workflow".
A workflow is a series of actions needed to carry out an entire task, from inquiry to resolution. This can be transferred between multiple people, departments or even platforms.
Examples:
Registering a change of address
Registering a payment
Issuing an invoice or other related processes
Sending out information to customers
Credit approval
Purchase
Document approval
Responding to customer inquiries and requests
Onboarding new customers
Reimbursement requests
Workflow Automation is an approach to automate these tasks and streamline processes in accordance with the defined business rules across the organization. It targets areas of repetitive and manual work across all platforms and as a result, the organization becomes more efficient, minimizes variation, and reduces cost.
Having a workflow automation platform will enable you to work smarter, shifting the performance of frequent, predictable, and repetitive tasks from manual to automated.
Who can benefit from a workflow automation software?
Answer is simple – everyone! Workflow automation is not industry specific. All organizations have workflows, whether they are manual or automated. Workflows are simply another way of describing how we operate today, and all organizations can benefit from automating repetitive manual data-entry. Every department within the organization can benefit from automating handovers and streamlining communication, from IT to legal, from HR to sales and marketing.
5 key benefits of workflow automation
Step by step
Workflow automation software uses rule-based logic that's based on the defined business rules or actions needed to carry out each task.
The first step is to define day-to-day activities. Ask yourself the questions, does the process consist of repetitive manual tasks? Is the process prone to errors? what information is needed? What department needs to be involved? Who needs to be held accountable? It's important to visualize the entire process and customer journey and be aware of all handovers to eliminate any bottlenecks.
The next step is to identify all the systems, tools and databases that impact the actions as each workflow may depend on information from a variety of sources, such as billing system, ERP, CRM, emails and bots,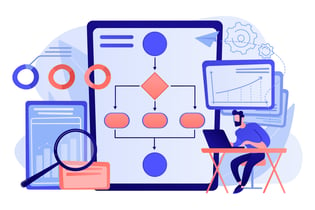 The final step is to create the logic, design the workflows in a task manager or a flow designer, and establish relevant key performance indicators (KPIs) so that all processes are embedded into the platform. Based on the conditional logic, the software can then automatically distribute inquiries to relevant team members, provide them with relevant data and even suggest answers
– ensuring fast and correct handling.
Now that you're up and running it's crucial to regularly monitor the workflows and KPIs to ensure that everything continues to function properly and adhere to the business rules.
An organization may have dozens or even hundreds of workflows. Keeping track of them all is no walk in the park, but the software has your back! Analyzing and identifying any hindrance or obstacles in the processes. This may involve inefficiencies or weak spots in a process that needs to be adjusted, discovering exceptions that don't fit any of the designed workflows or even discovering additional steps of manual work that can easily be automated. Monitoring and occasionally optimizing workflows will ensure greater accuracy, efficiency, and productivity.
If workflow automation is so great, why don't all organizations rely on it?
The workflow is the easy part but the most common reason organizations are not fully utilizing automation is typically due to technical restraints. If you are thinking of investing in a workflow automation software, there are a few features you should keep in mind to ensure a successful implementation.
User friendly
There is no "one-size-fits-all" when it comes to workflows, while there are certainly some standard workflows that can apply to almost any industry or department, there will always be different priorities and the need to define workflows based on individual business rules. An easy-to-use and a simple drag and drop interface will allow you to easily create and customize your own automation workflows.
Integration possibilities
Aim for a smooth and seamless solution that can be integrated with existing tools and platforms. Eliminate manual data entry in multiple systems or other additional work with a complete API layer to integrate towards other platforms.
Low or no code software
The whole point of the software is to make your organization more efficient, not to use more consultants. Implementing a low or no code software allows users to easily design and customize automated workflows without the need for coding skills or a dedicated IT team. This means you can make changes and updates as needed, adapt to changing business needs or faulty processes.
Want to get started?
Collect and manage all of your data in one place using eTray, an intuitive workflow management platform which enables your customer service operations to increase their daily performance by automating manual and repetitive tasks.
eTray is a perfect fit for any business, large or small, global or local. A low or no code workflow automation software that is easy to use, with a drag and drop configuration and easy to integrate into other platforms.
Enterprise or cloud? up to you, we can do both! With eTray, companies can take full ownership of the customer journey and design it as they want it to be.
Connect with one of our CX experts and get started today!